V60 vs V90
2022 Volvo V60 vs. 2022 Volvo V90 Comparison
For the luxury and style you expect from a Volvo car, and the versatility and performance you expect from a crossover, your best choice is likely the Volvo V60 Cross Country or the Volvo V90 Cross Country. These all-wheel drive (AWD) dynamic wagons combine the best of Volvo cars and SUVs, with sophisticated interior design and powerful capability on the road. The Volvo V60 Cross Country starts at $40,950 MSRP, while the larger Volvo V90 Cross Country starts at $51,800 MSRP.
To compare the 2022 Volvo V60 vs. 2022 Volvo V90, the team at Volvo Cars Princeton has written this description of the similarities and differences between these models. If you have any questions, or would like to test drive the V60 or V90, call us at (888) 435-8654 or contact us online.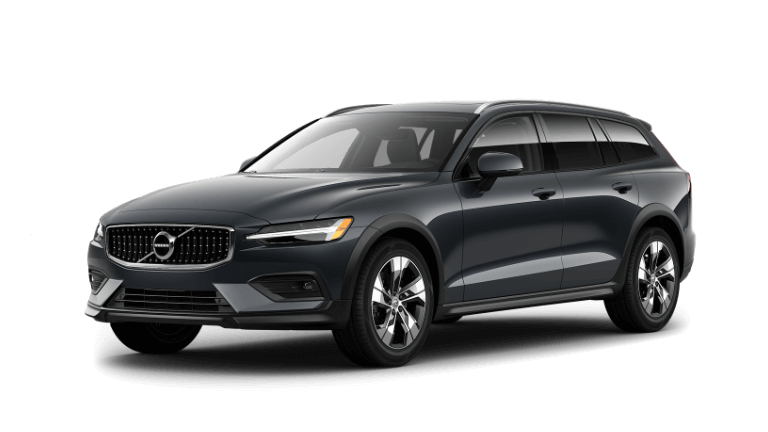 Volvo V60 Key Features
You'll find the Volvo V60 for sale at the Volvo Cars Princeton dealership in Lawrenceville, NJ. See if one of the cars in our Volvo V60 inventory is perfect for you, then match it with a Volvo V60 lease deal. The V60 dynamic wagon comes with standard AWD, Cross Country details, and features like power-retractable side mirrors and a panoramic moonroof. Learn more about this unforgettable car by reading our Volvo V60 review.
Find My V60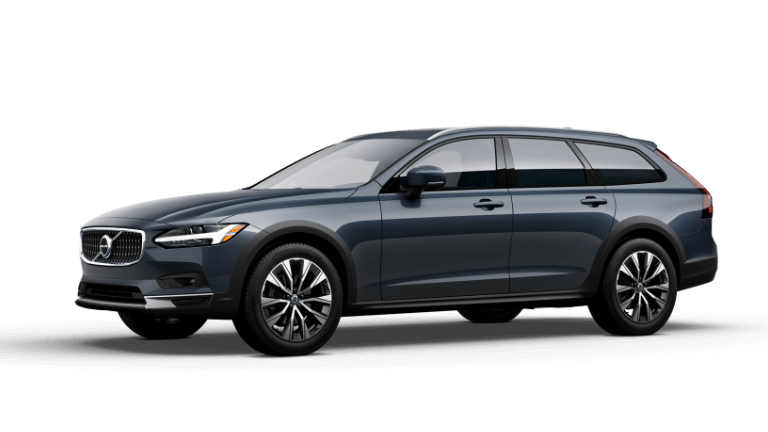 Volvo V90 Key Features
If you're looking for a Volvo V90 for sale, you can find a selection available at Volvo Cars Princeton. Look through our Volvo V90 inventory and see if our Volvo V90 lease offer might be right for you. To find out more about this impressive car, read our Volvo V90 review and learn about features like its standard AWD, panoramic moonroof, Cross Country detailing, and the Pilot Assist enhanced driver assistance system.
Find My V90
2022 Volvo V60 vs V90

Engine Options Compared

The 2022 Volvo V60 Cross Country and 2022 Volvo V90 Cross Country are both available with an energizing 2.0L four-cylinder gas engine, but the V90 boasts a mild hybrid powertrain and higher horsepower for an extra kick of acceleration. For its part, the V60 is also available as the Volvo V60 Recharge plug-in hybrid model. Engine specs for the Volvo V60 and Volvo V90 are here:
| | | |
| --- | --- | --- |
| 2022 Volvo V60 | Model | 2022 Volvo V90 |
| T5 2.0L 4-cylinder gas | Engine | B6 2.0L 4-cylinder mild hybrid |
| 250 HP | Horsepower | 295 HP |
| 258 lb.-ft. | Torque | 310 lb.-ft. |
| 22/31 MPG (city/hwy) | Fuel Economy | 22/29 MPG (city/hwy) |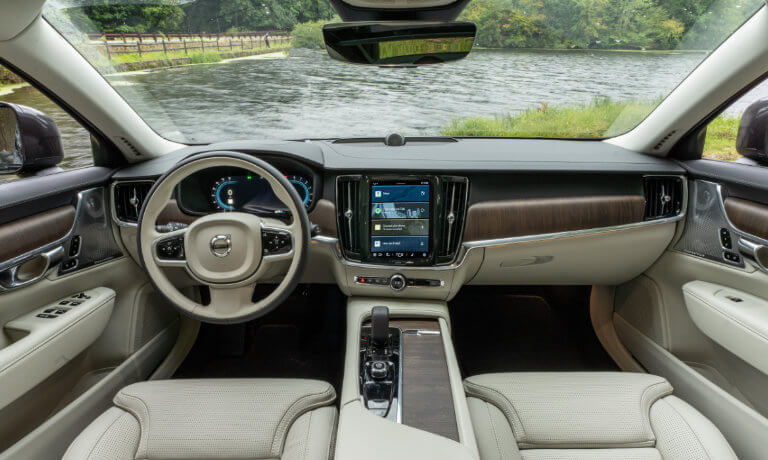 2022 Volvo V60 vs V90

Interior Features Compared

As soon as you take a seat in either the 2022 Volvo V60 or 2022 Volvo V90, you'll recognize the Scandinavian thoughtfulness and precision that went into crafting the cabins of these five-seat cars. The larger V90 exclusively includes driver's seat memory and a 12-volt power outlet in the cargo area, while both cars offer these interior features:
Two-zone climate system
Heated, power-adjustable front seats with power lumbar support
After-run parking climate
Ten-speaker high performance audio system
Leather upholstery and leather-wrapped steering wheel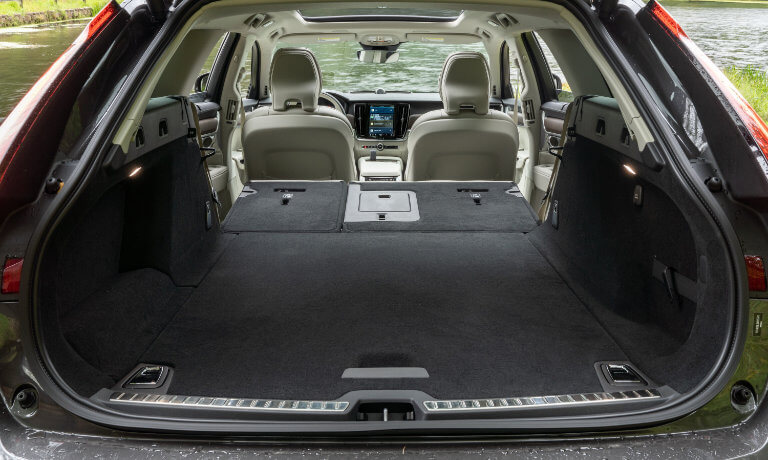 2022 Volvo V60 vs V90

Dimensions & Cargo Space Compared

The 2022 Volvo V90 is larger than the 2022 Volvo V60, but both dynamic wagons offer similarly spacious seating for five people and ample storage space in the cargo area. Find dimensions and cargo specifications here:
| | | |
| --- | --- | --- |
| V60 | Model | V90 |
| 60.5 cu.-ft. | Max. Cargo Volume | 53.9 cu.-ft. |
| 37.4 in. / 38.1 in. | Head Room (Front/Rear) | 38.7 in. / 38 in. |
| 42.3 in. / 35.2 in. | Leg Room (Front/Rear) | 42.2 in. / 35.9 in. |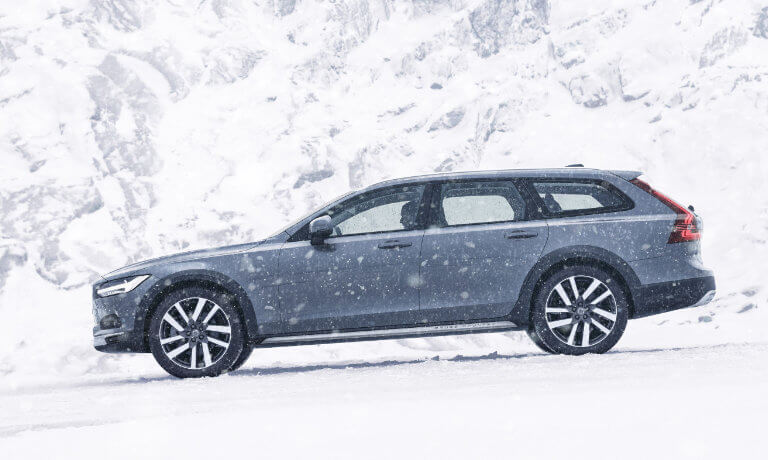 2022 Volvo V60 vs V90

Technology & Safety Options Offered

The 2022 Volvo V60 and 2022 Volvo V90 are thoroughly modern, with the latest innovative technology at your fingertips to keep you confident and connected when you're on the road. With the V60 you can enjoy Sensus navigation, while the V90 offers Google services built-in. Both models offer the following tech, safety, and driver assistance features:
Bluetooth® and smartphone connectivity
Wireless smartphone charging
Volvo Cars app
LED front fog lights with cornering feature
BLIS® (blind spot information system) and cross traffic alert
Front and rear park assist
Lane keeping aid and oncoming lane mitigation
Road sign information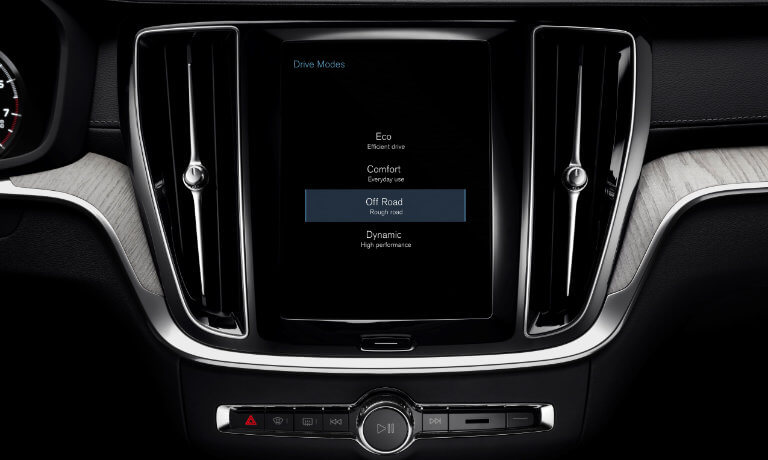 2021 Volvo V60 vs. Volvo V90 Wagon Comparison
Boasting striking craftsmanship and built for adventure, the Volvo stable of wagons are sure to deliver an inspiring drive. The product specialists at Volvo Cars Princeton can help you find which wagon is right for you with the following 2021 Volvo V60 vs. 2021 Volvo V90 head-to-head comparison.
To see what we have available at our dealership in Lawrenceville, NJ, scroll through our V60 inventory and V90 inventory. You can also secure a great monthly rate by claiming an offer from our V60 incentives and V90 incentives pages. If you have additional questions or would like to set up a test drive appointment, get in touch with the Volvo Cars Princeton team online or at (888) 435-8654.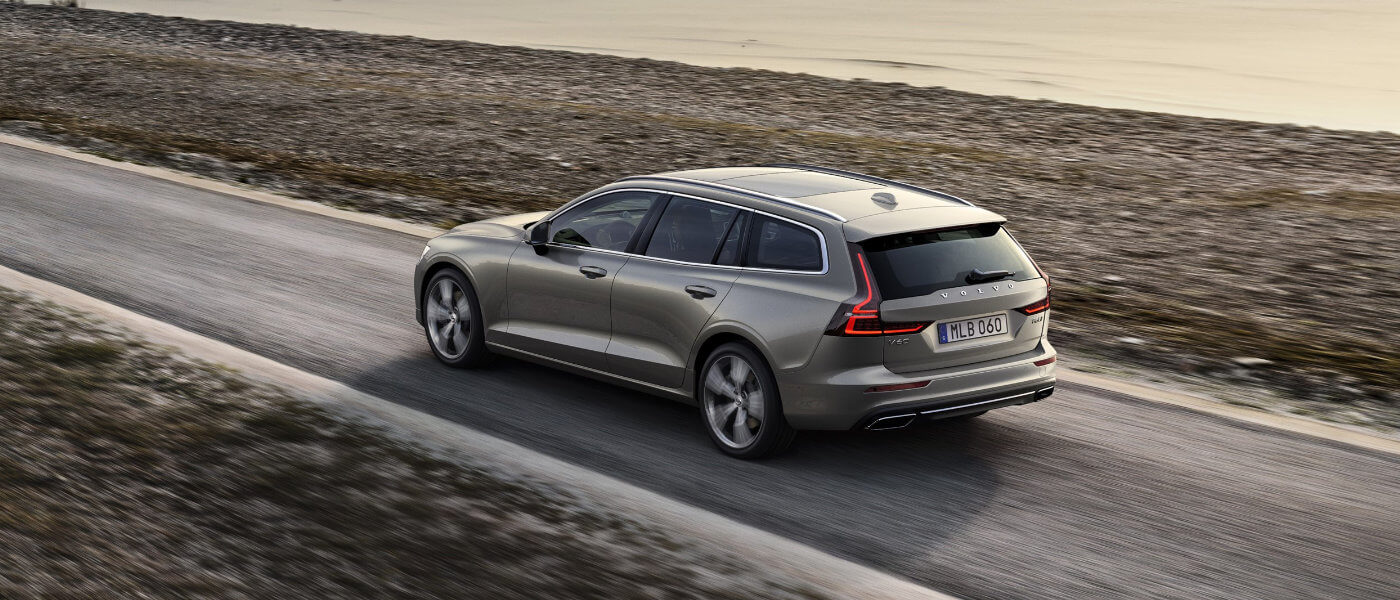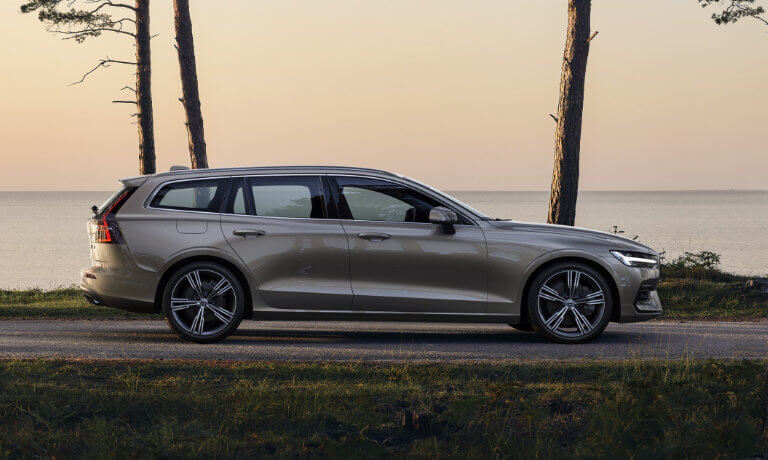 Volvo V60

Key Features & Differences

Ready for whatever the day has in store, the 2021 Volvo V60 delivers a luxurious cabin while providing space for everything you need. We've gone in-depth on this wagon on our V60 review page. To help you make the most out of every moment, the V60 is equipped with the following unique features:
Power retractable sideview mirrors
Charcoal leather upholstery
Heated front seats
Comfort or contour front seats
Leather-clad steering wheel
Linear Lime, Driftwood, Metal Mesh aluminum, or Iron Ore aluminum decor
Smartphone integration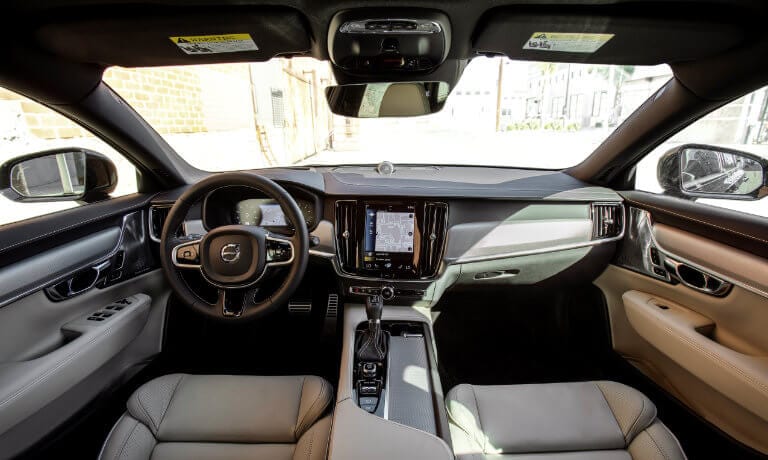 Volvo V90

Key Features & Differences

The elegant design and contemporary luxury of the 2021 Volvo V90 are sure to impress drivers, passengers, and passersby alike. Find some distinct features of this luxury estate car below, or learn more with our V90 review page.
Auto-dimming, power-retractable sideview mirrors
Headlight high pressure cleaning
Maroon Brown perforated Nappa leather, Charcoal leather, or Charcoal Nubuck and Nappa leather upholstery
Heated and ventilated front seats
Front seat power adjustable side support and cushion extensions
Comfort front seats
Heated, leather-clad steering wheel
Gray Ash or Metal Mesh aluminum decor
Inductive smartphone charging
Adaptive cruise control
Volvo V60 vs. Volvo V90

Interior Dimensions & Cargo Space

While both Volvo wagons seat five passengers comfortably, the V60 and V90 vary in their interior measurements. In the following table, we've outlined how the interior dimensions and cargo capacity of these models differ:
| | | |
| --- | --- | --- |
| 2021 Volvo V60 | Model | 2021 Volvo V90 |
| Five | Seating Capacity | Five |
| 37.4 / 38.1 in. | Head Room (front/rear) | 37.8 / 37.7 in. |
| 56.1 / 54.5 in. | Shoulder Room (front/rear) | 57.5 / 55.9 in. |
| 42.3 / 35.2 in. | Leg Room (front/rear) | 42.2 / 35.9 in. |
| 55.3 / 53.4 in. | Hip Room (front/rear) | 56.4 / 55.7 in |
| 60.5 cu.-ft. | Max. Cargo Capacity | 53.9 cu.-ft |
Volvo V60 vs. Volvo V90

Engine & Performance Options Available

The V60 and V90 are both standardly equipped with a turbocharged T5 engine. While the V90 can be boosted with the larger, more dynamic T6 powertrain, the V60 provides the option to swap in a responsive hybrid engine. Additionally, both wagons can be paired with front-wheel (FWD) or all-wheel (AWD) drivetrains. Performance specs for all three V60 and V90 engines are as follows:
Engine
Horsepower
Torque
MPG
Max Towing Capacity
T5 2.0L turbocharged 4-cylinder (V60 & V90)
250 HP
258 lb.-ft.
23 city / 34 hwy (V60)
122 city / 33 hwy (V90)
2,000-lb.
T6 2.0L supercharged & turbocharged 4-cylinder (V90)
316 HP
295 lb.-ft.
21 city / 32 hwy
3,500-lb.
T8 Hybrid (V60)
415 combined HP
472 combined lb.-ft.
69 combined
2,000-lb.
Volvo V60 vs. Volvo V90

Technology & Driver Safety Specs

Whether you're making a quick trip to the store, commuting to work, or getting away for the weekend, the refined tech suite and first-class safety considerations of the V60 and V90 will keep you feeling connected and secure. Below, you'll find some standard and available tech and safety features shared by the V60 and V90:
12-in. digital instrument panel
Sensus navigation system
HD Radio™
SiriusXM® Satellite Radio
10-speaker high performance or 14-speaker Harman Kardon® audio system
Road sign information
Lane keeping aid
Oncoming lane mitigation
BLIS™ blind spot information with steer assist and cross traffic alert with auto-brake
Front and rear park assist
Rear park assist camera